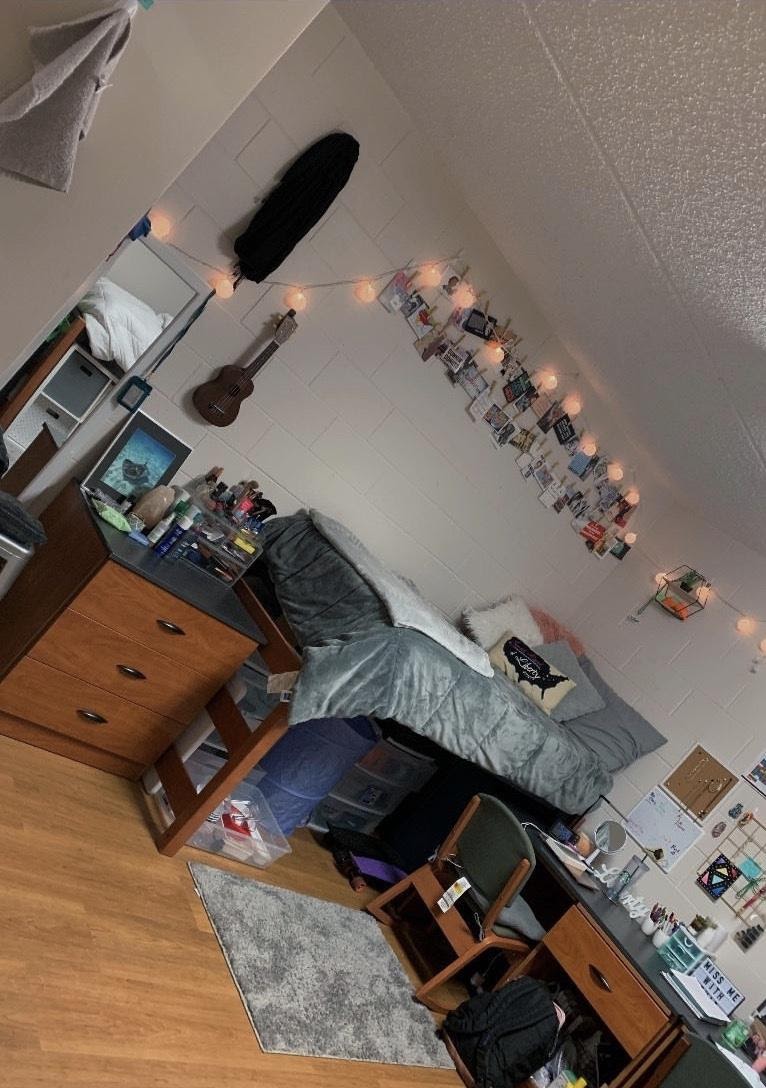 Aren't You Forgetting Something?
By: Madison Bouton (Staff Reporter/Photographer)
With senior year coming to a close and final college decisions being made, it's time to consider what to bring. This busy end to the school year might cause confusion when packing and students might forget items. Liberty Streeter, a Nease High School graduate from the class of 2019, gave us helpful tips for seniors. When asked what was helpful and what was unnecessary, Liberty stated "the storage units under my bed were the most helpful, I use it to organize all sorts of things from clothes to dishes; however, the clothes drying rack I purchased was never used so I returned it." She was also asked what she thought was most important, to this she responded "bring things that make you feel at home, storage units, and a good mattress cover and foam to make your bed comfy are most important in my opinion." Following these tips and using the following list will allow smooth sailing for Nease seniors into their freshman year of college. 
Clothing: 
Pack for the season – only bring clothes that are needed for that time of year (Ex. Don't bring sweaters and coats when it's summer or spring) 
Summer/Spring Items:
Flip Flops
Sandals
Sneakers
Bathing Suits
 Breathable shirts
 Shorts
 Skirts
 Hats
 Sunglasses
Fall/Winter Items:
Hats
Jackets
 Sweatshirts
 Sweaters
 Pants (sweatpants, jeans, etc.)
Snow Boots (if you are in an area where snow is common)
 Gloves
Shoes (that are practical)
Dorm/Apartment Items: 
2 Sets of Bed Sheets (ask for dimensions to see if extra long or regular sheets need to be purchased) 

Blankets 

Pillows and Pillow Cases 

Mattress Pad 

Mattress Cover 

Comforter 

Under Bed Storage 

Laptop (with Microsoft Office) 

2 Extension Cords 

Headphones 

Printer 

Printer Ink 

Printer Paper 

Flash Drive 

Calendar 

Desk Chair 

Desk Lamp 

Trash Can 

Extra Pens, Pencils, and Markers 

Extra Paper 

Glue 

Tape 

Scissors 

Stapler and Staples 

3-hole punch 

White-out 

Bulletin Board 

Push Pins 

White Board 

Cell Phone Charger

Posters 

Pictures
Bathroom Items:
Bath Towels 

Shower Caddy

Shower Shoes (for communal bathrooms) 

Toiletries 

Skin Care
Makeup
Hair Care Products
Hair Styling Products
Eye Drops
Contacts and/or glasses
Deodorant
Toothbrush and Toothpaste
Dental Floss
Razor and Shaving Cream
Body Wash
Tweezers
Hand Soap
Hand Towels
Tissues
Toilet Paper
Sunscreen
Medical Items: 
Band Aids 

Contact Lens Solution 

Contraceptives 

Couch Drops 

First Aid Kit 

Hot/Cold Packs 

Vitamins 

Prescription Medication 

Tylenol 

Pepto Bismol 

Mucinex 

Hand Sanitizer 

Advil 

Cold/Flu Medicine 
School Supplies: 
Backpack  

Calculator 

Index Cards 

Notebooks 

Folders 

Binders 

Notebook Paper 

Textbooks (can be rented, printed, or purchased) 

Pencils Case 

Pencils
Pens
Highlighters
Sticky Notes
Important Documents: 
Student ID 

Drivers License 

Car Registration 

Bank Information 

Financial Aid Forms 

Social Security Card 

Debit/Credit Card 
Other Items: 
Batteries 

Bike, Bike Helmet, Bike Lock 

Reusable Water Bottle 

Safety Pins 

Safety Whistle 

Bug Spray 

Umbrella 

Duct Tape 

Fan 

Flashlight 

Light bulbs 

Sewing kit 

Steamer or an Iron and Ironing Board 

Hangers 

Kitchen Utensils 

Kitchen Plates and Bowls 

Cups and Mugs 

Ziploc Bags 

Dish Towels 

Water Filter 

Broom 

Windex 

Disinfecting Wipes