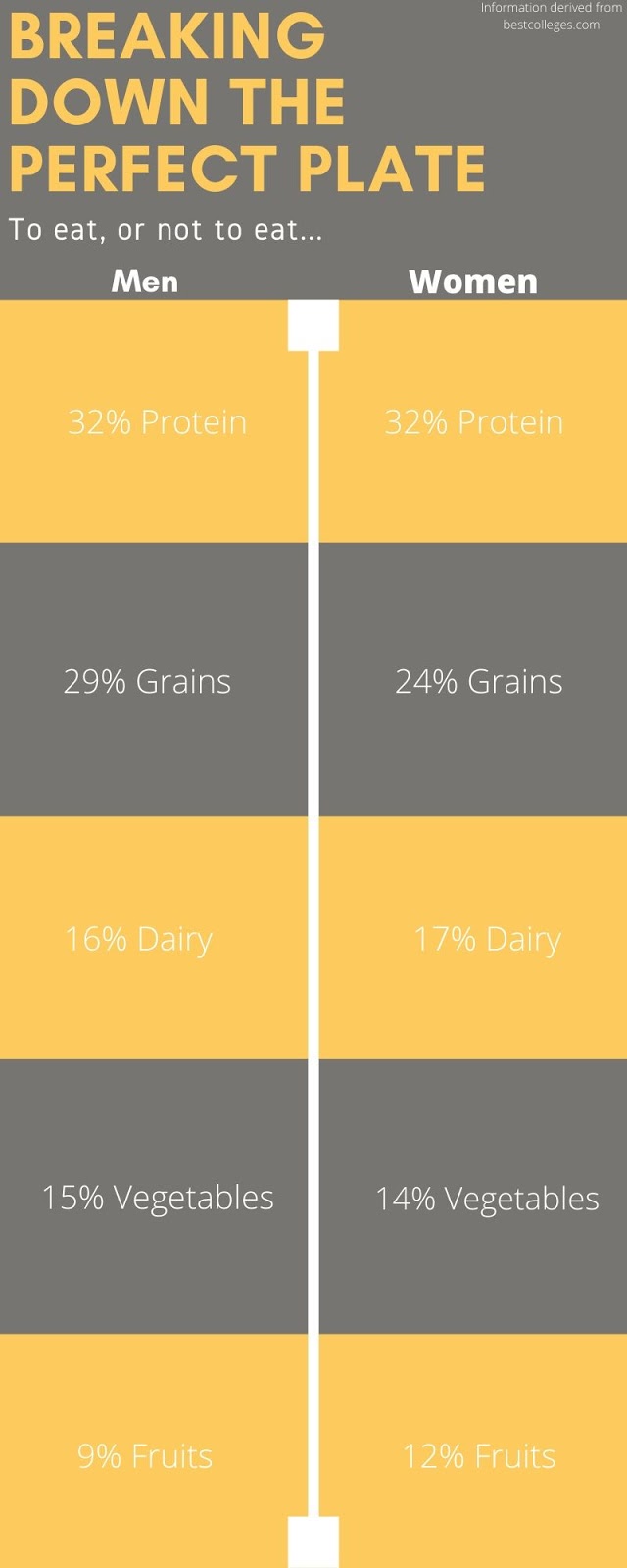 Fending Off the Freshman 15
Fending Off the Freshman 15
By Nicole Scarbrough (Publisher)
College is a groundbreaking and incredible opportunity for students across the world. Alongside the opportunity to advance their education, students are exposed to a diverse cultural environment. However, while there are inevitably many perks in attending a college, university, or trade school, stress typically is served alongside rigorous academics. According to medicalnewstoday.com, stress is "a feeling that people have when they are overloaded and struggling to cope with demands." Whether a freshman concerned about their first midterm or a is senior trying to ensure that they graduate on time, stress is experienced by all college students at some point throughout their college career. From this experience, the theory of the "Freshman 15" is derived.
For starters, the "Freshman 15" is interpreted as a myth to some and a fear for others. Not all college freshmen are predisposed to gain fifteen pounds, though gaining weight initially isn't unlikely due to the sudden change in lifestyle. There have been countless studies analyzing the effects of education-based stress on college freshmen, and college students in general. One particular study conducted by researchers at Utah State University concluded that nearly one in four college freshmen gain an average of ten pounds per semester of school. However, just because the numbers point accusatory fingers towards a quarter of the freshmen population does not mean that there isn't a way around it, nor does it mean that gaining weight isn't preventable in the first place. Let it be known that avoiding the "Freshman 15" is not a feeble task, especially since the brain is just as important of a muscle as the biceps are. There is a three step system to evade and escape the "Freshman 15." Eat, sweat, and breathe. All factors ultimately play a major part in determining how mentally and physically "fit" students are upon entering freshman year of college.
The graphic above breaks down the distribution of components in a meal based on gender. While these values are recommended, they may vary due to personal preferences and dietary restrictions.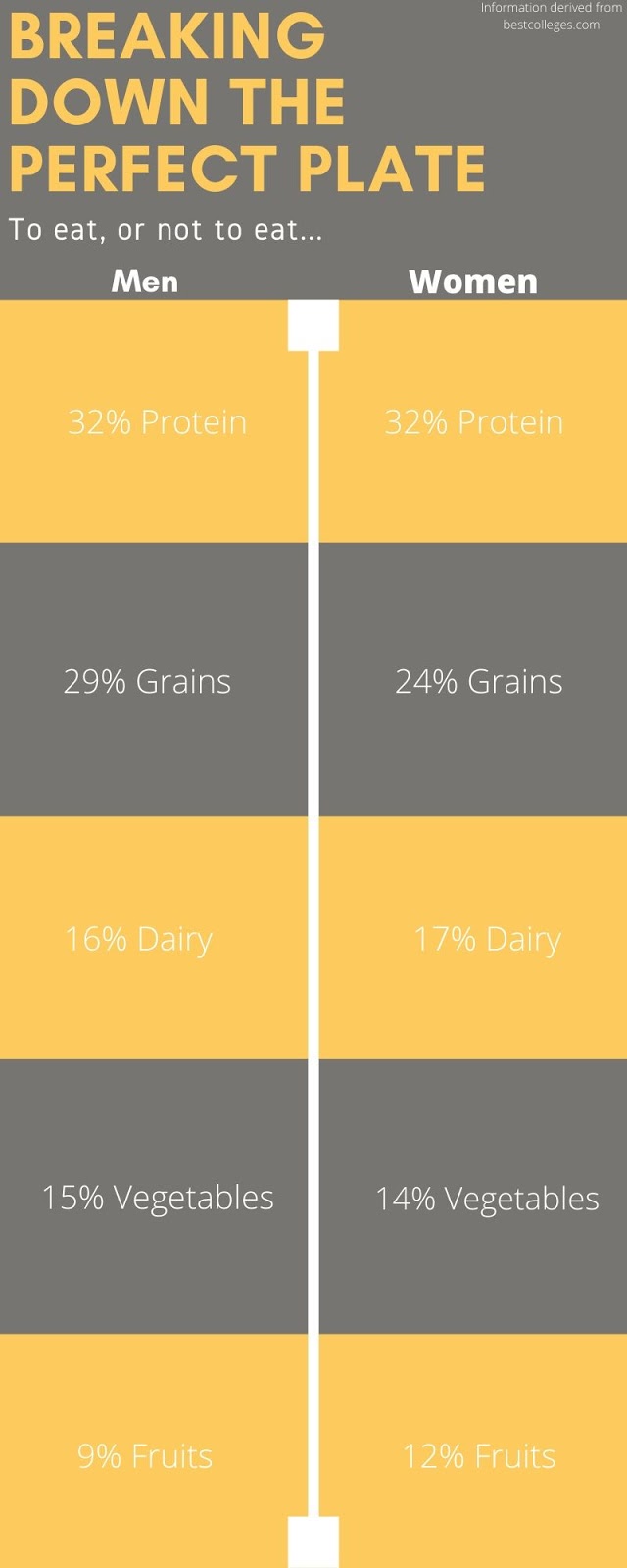 Step 1: Eat
Eating healthy on a budget can be near impossible for some college students. Unless a student is on an all expenses-paid trip to graduating, there usually isn't too much change in the piggy bank left over for trips to the organic section of the grocery store. However, many college campuses have dining halls and offer meal plans with healthy options for students who want to take responsibility for their health. The problem arises when students are not informed of their health and nutrition. The balance and distribution of meals has changed significantly in the past decade, and it is often difficult to keep track of. Initially the presence of grains, such as bread, comprised a significant portion of the food pyramid. When the pyramid was eventually revised and subsequently became a circle, fruits and vegetables became a necessity and now comprise slightly less than half of the food circle. However, the amount of food to be consumed per individual is heavily reliant on an individual's proportions: height, weight, and BMI (Body Mass Index), which can be calculated by dividing your weight by your height then squaring that and multiplying it by 703. BMI is a representation of body fat. The higher an individual's BMI is, the more likely an individual is for contracting weight-based food diseases such as diabetes. That's not to say that the occasional serving of gummy bears or Pringles is something to feel guilty of. There is a term that nutritionists use called moderation. This means that students should avoid eating the "extremes" of a food. Basically, just don't eat too much junk food. However, the amount of food that should be consumed daily by an individual varies per person and gender. A 100 pound boy and 100 pound girl should eat different amounts and types of food. Many colleges and universities have a nutrition and counseling program where one can receive a customized meal plan catered towards students' specific needs and proportions.
Many gyms offer free or affordable personal training services to college students, take advantage of them. To avoid injury or to learn more about equipment and ways to use them, express interest to gym management or employees.
Step 2: Sweat
An important aspect of evading the "Freshman 15" is staying in shape. Whether taking a light jog around campus or doing pushups on the floor of a dorm room, college students have many opportunities to maintain physical health throughout both semesters of freshmen year. Many colleges and universities offer an abundance of opportunities that foster physical health. Among such opportunities are fully equipped gyms, bicycle rentals, and the ability of students to take fitness classes (spin, yoga, pilates, etc…). However, it is important to keep in mind that the availability of activities vary across schools. While some colleges or universities may offer heated pools and an indoor track, others may offer a gym and an equestrian center. By using all the available resources, which most schools include in their tuition, staying in shape has the potential to become less of a chore and more of a hobby. Routine is the most important aspect of physical fitness. Many websites such as Pinterest give users access to a diverse array of workout plans for various levels of experience. So when faced with a set of weights, kettlebells, or resistance bands and no means to use them, a simple search with step-by-step directions both reduces the possibility of injury and spices up a workout. Additionally, with their expertise, trainers can show students how to safely and correctly use gym equipment to get a rewarding workout. The Harvard School of Public Health concluded that a participation in exercises and frequent physical activity has a positive impact on stress levels and health. In other words, exercising is invaluable to success in college, and allows students to place more focus on their studies and less focus on what the numbers on the scale read.
Part 3: Breathe
Mental health in college students has become a concern in recent years. With anxieties affecting the performance of students in school, such schools are taking an additional step to combat this struggle and assist students in their fight against mental illness. According to research conducted by the National Alliance On Mental Illness, 40% of students do not seek help, 80% of students feel overwhelmed by their responsibilities, and 50% have become so anxious that they have struggled in school. These numbers represent a crisis that will only continue to increase. Bre Jarvis, a junior at Brigham Young University states, "Your physical and mental health definitely go hand in hand with your performance in anything. On days when I don't eat right or get enough sleep, I do a lot less well than on days when I do take care of myself." A deteriorating mental state simultaneously can lead to weight gain and mood fluctuation produced by stress. With an increased awareness of a students' state of mind, not only is there potential for growth and development academically, but there is a decreased possibility that the student will experience the infamous "Freshman 15." In other words, the more "fit" an individual is mentally, the healthier and more motivated they will be physically.
There is an abundance of resources located on campuses to assist in defeating the "Freshman 15." From health and nutrition councilors to personal trainers, there is an arsenal of people willing to fight battles alongside students. While focusing on academics is undoubtedly a priority, staying healthy is also a necessity. So squeeze in some push-ups while pulling an all-nighter, or grab an apple to complement that tasty-looking slice of pizza. Even the smallest steps are significant when it comes to developing and maintaining your mental and physical health.
Photo Credits: Nicole Scarbrough