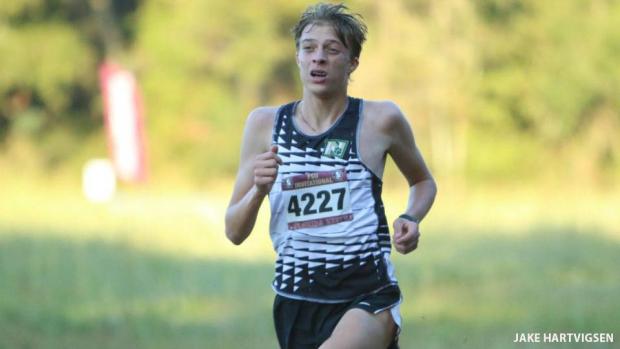 Running Into the Record Books
Rheinhardt Harrison is a prolific junior runner at Allen D. Nease High School who had a record-setting run over the summer at the Music City Distance Carnival. Harrison's 4:01:34 mile at this event was the fastest mile ever run by a sophomore. However, running fast isn't anything new to Harrison who's been winning races since before the age of ten. Since early 2016 Rheinhardt or his team have won 43 of the 87 races he's run in. In one of his first ever youth championships, the United States Track and Field Junior Olympics, Harrison finished first in the 1500m run with a time of 4:48, winning by almost 32 seconds. Since this point Rheinhardt's greatness has only continued to grow race by race.
In the 3 years he attended Landrum Middle School, Rheinhardt won 15 events including a state championship in the 800 meter run and a third place finish in the 1500m run. After winning a state title in May of 2018, Rheinhardt went on to win 13 races in a 2 month period at the 2018 AAU Junior Olympics. More specifically, Rheinhardt won all 4 finals events he ran in including: the 3000m race, two 1500m races, and the 800m race. Once this amazing summer run was over it was time for Harrison to compete at the high school level.
However, for a moment Harrison seemed to struggle at first in high school cross country. His performances were varied with back-to-back top 5 finishes followed by 11th place and 36th place finishes. After 2 months without a win Rheinhardt finally won the 5000m race at the Bronco Classic. Heading into his first district meet a lot was expected of Harrison and he performed well. He helped Nease finish 2nd in the 2018 district and regional meets.  However, a disappointing 23rd place finish at states that year left Harrison looking for more in 2019.
Rheinhardt came out the gates hot in 2019 winning 4 of his first 7 races and setting personal bests in 1200m and 8000m runs. By spring, Harrison and Nease finished 1st in districts and regionals to advance to states. As the only freshman to finish in the top 20, Harrison managed to finish second only 5 seconds behind Estero High School's senior runner, Hugh Brittenham. This second place finish showed mass improvement by Rheinhardt and gave a new hope for the upcoming fall season. Harrison's fall season started off quite mediocre with only 2 top 10's in 6 races. Although it started off slow, Rheinhardt picked up the pace finishing 10th in districts and winning regionals and states handily in the 5000m races.  
After a short hiatus from races until February Harrison started 2020 out hotter then his 2019. Finishing top 10 in all of his first 7 races while setting 5 different personal bests. Following this 7 run stretch Harrison went on to shatter the national sophomore mile record by 2 seconds at 4:01:34. This time was also a 16 year old age record in the state of Florida. Harrison continued to place highly in the races following this insane record scoring 3 straight first place finishes. With over a year and a half left at Nease it will be exciting to watch Rheinhardt improve on his already top tier talent. It seems the only thing left to reach is for back to back state titles for Nease over the next two years.