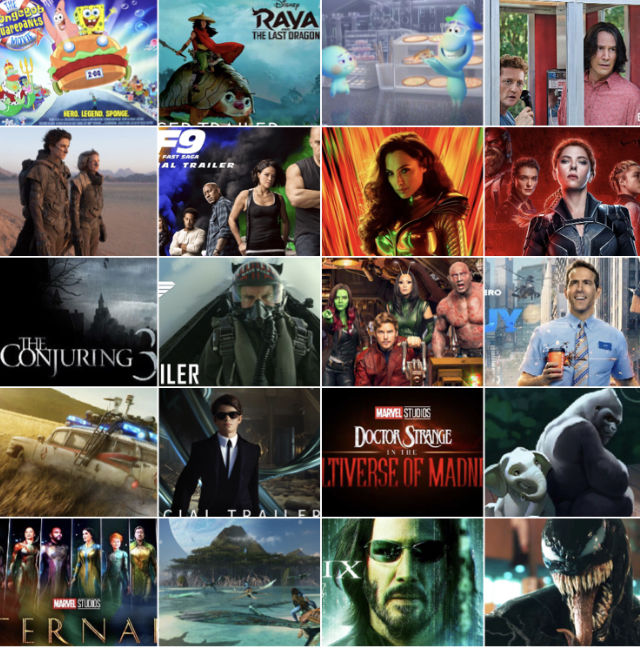 As hectic as 2020 has been next year is definitely one to look forward too. To bring some light to this whole situation, there are so many new movies coming out next year that film fans are excited to see. These films include:
The Suicide Squad

including famous actors like Viola Davis and Margot Robbie, it is a sequel to the past hit

movie Suicide Squad

(2016) about a team of criminals who join forces to fight a higher power. 

Cinderella

, with the main character being Camila Cabello (a pop singer) who goes through the same quests as the same previous animated Disney princess. It is going to be a musical romantic comedy and is scheduled to be released on February 5, 2021.
Raya and the Last Dragon,

an animated Disney film featuring Kelly Marie Tran (in movies like

Star Wars: The Rise of Skywalker

and

The Croods: A New Age)

as the voice of the main character, the film is about a girl named Raya who goes on a journey to find the last dragon.
Venom 2 (Let There Be Carnage)

, an upcoming superhero film as the sequel to

Venom

starring Tom Hardy and Woody Harrelson. It is produced by Columbia Pictures and based on the many marvel Comics characters. 
There are many more to look forward too so be sure to stay tuned!
Links:
The Suicide Squad: https://www.imdb.com/title/tt6334354/
Cinderella: https://www.imdb.com/title/tt10155932/
Raya and the Last Dragon: https://www.imdb.com/title/tt5109280/